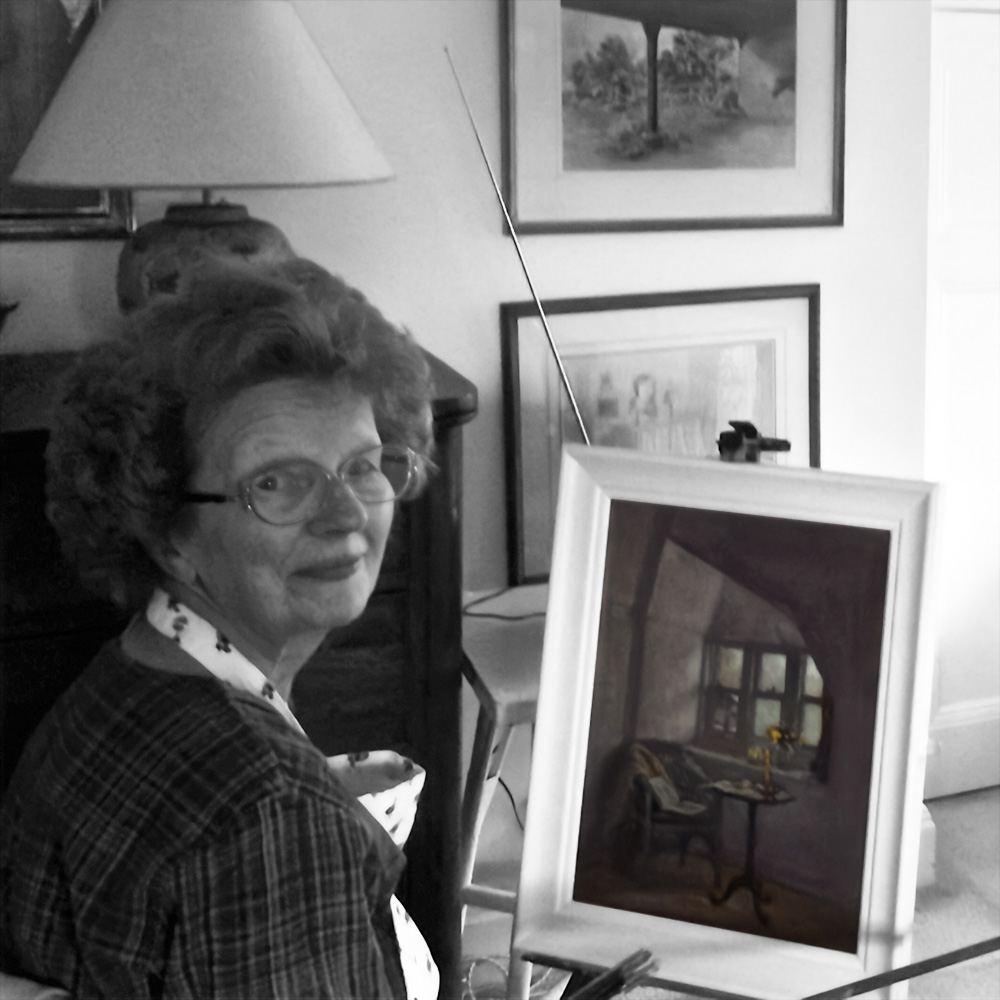 Caroline Hervey-Bathurst was first smitten with art when she visited the Louvre art gallery in Paris, at the age of 11. Delacroix's oil portrait of Chopin was of special interest to young Caroline, as she had recently begun to discover and appreciate his music. She also adored Ingres' large oil portrait entitled 'Mademoiselle Caroline Rivière' and a landscape with a stream by Camille Pissarro.
A few years later, Paris was still providing her with inspiration, with paintings in the Musée de l'Orangerie fuelling her love of the Impressionists.
While a highlight of her youth was when Quentin Bell came to teach art at her school, Caroline was not allowed to become an artist until some years after her formal education had ended. However, her artistic eye was put to good use in the meantime, as she became an interior designer.
In due course, Caroline honed her artistic skills with portrait drawing classes in London. It was at this time that she met and studied under the gifted painter and draughtsman Jehan Daly, while studying at St Martin's School of Art. Jehan became a great mentor and friend, even painting portraits of Caroline's children.
Caroline was also strongly supported by the war artist and watercolourist R. Vivian Pitchforth RA, who was her tutor at the Sir John Cass College of Art.
She expanded her artistic talents with a two-year course on botanical art at the Chelsea Physic Garden. The detailed nature of this work suited Caroline's artistic style and dedication to realistic rendition. Her training paid off and her art is featured in the Garden's Florilegium Society record of rare plants in the garden.
Caroline exhibits widely, including at prestigious venues in London, such as the Royal Society of Portrait Painters, the Royal Academy, and the Piers Feetham Gallery.
Her designs have raised large sums of money for good causes over the years. Her Jane Austen card series is sold at Winchester Cathedral to support the Cathedral's choir.
In addition, she has designed Christmas cards to be sold to raise funds for the charity the Head and Neck Cancer Foundation, set up in memory of her husband, who had oral cancer. The Foundation raises awareness of mouth cancers and the latest treatments.
She also illustrated a series of soup recipes developed by the head and neck cancer surgeon Docteur Philippe Katz. These are designed especially for people who have had head and neck operations for cancer, enabling them to eat with their families.
Caroline is keeping busy with more illustrations that will be published as cards and sold by Winchester Cathedral, as well as a steady stream of portrait commissions.    
Currently she is focusing on creating large landscapes using oils and pastels, inspired by her hero, the artist William Nicholson (1872-1949). Caroline is excited to push herself forward with this work, which is energising her to make leaps forward with her artistic practice. She has also been motivated to begin a series of studies of candlelit scenes.